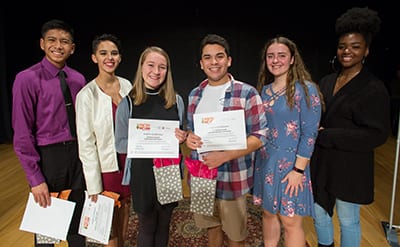 Registration Open for Poetry Out Loud
October 4 – December 2, 2022
Appel Farm is the proud partner for Region 2 of New Jersey Poetry Out Loud!
Writers Theatre of NJ has partnered with the New Jersey State Council on the Arts for the past 13 years on the NJ Poetry Out Loud Program. Poetry Out Loud is a national poetry recitation program for all public, charter, parochial school and home school students grades 9-12, or the age/grade equivalent. Other grades are welcome to register and run the program at the school level, but do not qualify for the contest. National Poetry Out Loud is a partnership of the National Endowment for the Arts, The Poetry Foundation, and the state arts agencies of the United States.
How It Works
Any teacher or administrator at a New Jersey public, charter, parochial school or home school organization serving grades 9-12, or the age/grade equivalent can register for the program. Registered schools must implement the NJPOL program between the months of September – early January in any classroom, club or after-school program.
Schools will receive:
Free multimedia toolkits, which include: a teacher's guide complete with lesson plans, audio and DVD support materials, and posters
Free, flexible curriculum plan
Book(s) of poetry from our partner, CavanKerry Press.
Updates and support from the NJPOL Coordinator and their prospective regional partner throughout the year
Schools and organizations must host a school-wide or classroom-level competition in early January.
School contests will have a minimum of two students competing, and contest judges.
One winner per school will be recommended to attend the regional contest at Appel Farm as a Regional Contestant.
Each Regional contestant must be prepared to recite a total of three fully memorized poems, reciting one poem per round. Poems must be from the approved POL Anthology and satisfy the contest criteria.
Registration closes December 2, 2022.
More Information
For more information from Appel Farm on Poetry Out Loud please contact Kristina Hill at khill@appelfarm.org, or contact Poetry Out Load directly at NJPOL@wtnj.org, or explore the links below.
Poetry is when an emotion has found its thought and the thought has found words.

Robert Frost